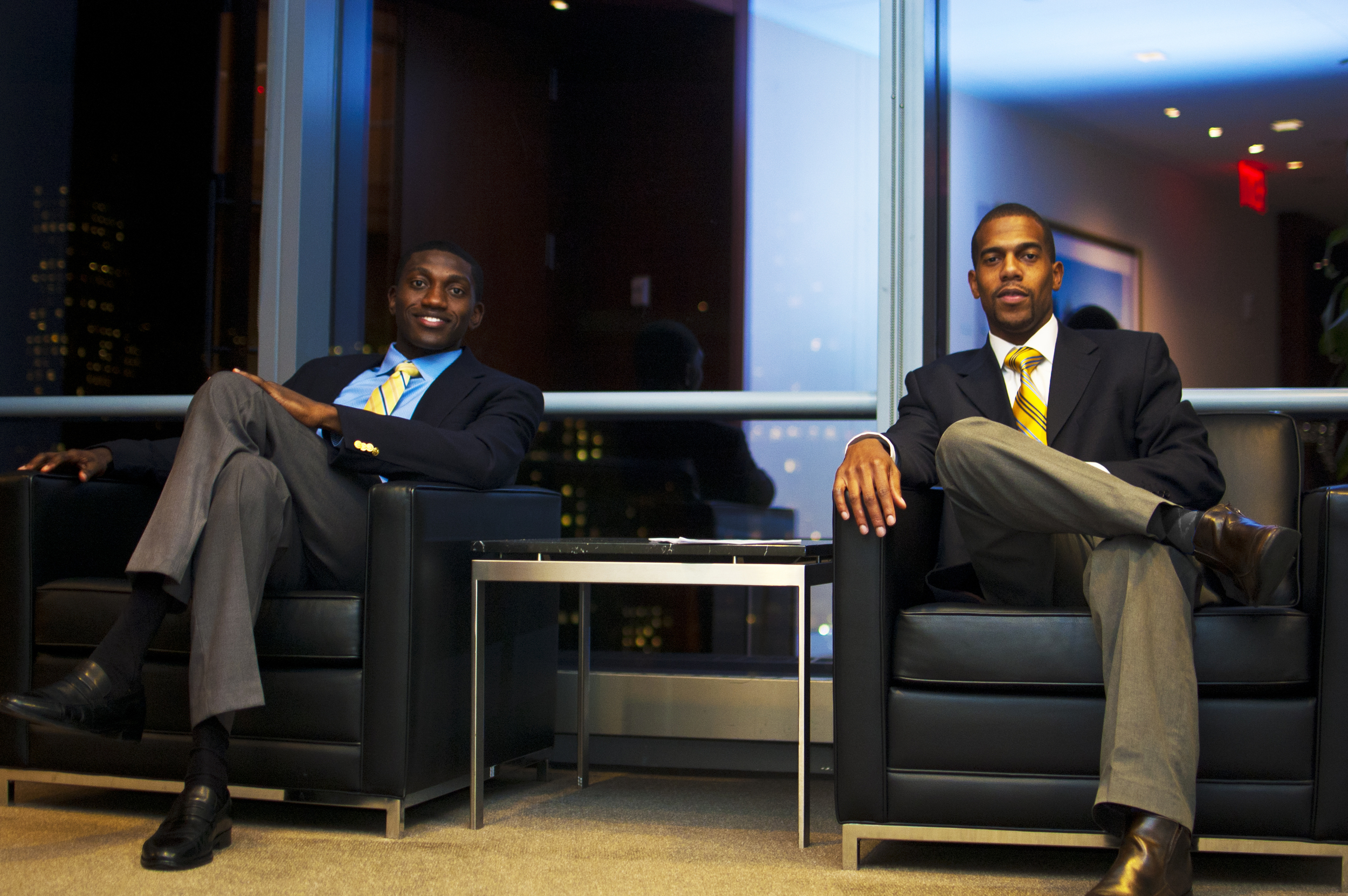 We are unaware if anyone has actually ever heard (or cared to know) the real story of how we were founded. Quite often Jaleni and I like to share the brief Hollywood version...just in case our E! True Hollywood story is being considered. Well, here's the story, Jaleni and I have been friends for over a decade now...starting way back in 2000 when we were just meager freshmen in high school. After graduating from college with our freshly inked degrees and starting our "dream" careers on Wall St. (more on that at a later time) we thought we had arrived and were on the fast tracks to the corner offices, houses in the Hamptons, and vacations in San Tropez – currently dreams deferred. Occasionally when we convened for much needed therapy sessions happy hour we often discussed an unfounded feeling of emptiness. We quickly realized what was missing, both of us had spent considerable time in undergrad performing community service and appreciated helping our local communities but we had become so absorbed with our professional careers we shunned the activities that we enjoyed the most.
So...I know what you're thinking...we should have joined Big Brother Big Sister and all would be well, right? Well, not quite. We both recognized our talents and expertise and realized that we had knowledge that many of our peers from our respective neighborhoods didn't have but could benefit from. (Jaleni is from the Bronx and I am from Brooklyn) If you recall, in 2008-09 the world was in a bitof a frenzy; financial markets were tanking, banks were failing, and companies were laying off employees in the thousands. With careful examination one would discover that the U.S housing market was at the crux of the meltdown – in short, Americans were defaulting on mortgages…mortgages they should have never had to begin with. (But that's a story for a later day as well.) The issue was particularly exaggerated in urban and inner city areas where financial illiteracy is widespread. As natives of these neighborhoods and financial professionals, it became very evident there was a way for us to help – by sharing the knowledge we had about personal finance and investing we could assist in preventing future generations from making the same ill-fated financial decisions of generations past. Jaleni and I were witnessing firsthand how poor financial decisions could devastate both Wall Street and Harlem's 125th Street. As we saw stocks topple and jobless rates among underrepresented ethnic groups sky rocket we understood that our communities were in desperate need of financial literacy education.
We envisioned an organization that would help educate urban America on financial literacy but could also provide positive images to urban citizens and serve as role models and mentors. The organization would be culturally relevant, engaging, and seek to teach financial literacy in a way that has never been done before. (Cue up: cheesy superhero theme music) We are firm believers and proponents of the mantra "the youth are the future" and therefore we wanted to initially focus our organization on serving this demographic and then later expand to other age ranges. Jaleni and I had experience teaching high school students through volunteer endeavors and were keen to understanding that teenage years are an impressionable time for youth when many negative financial habits are learned and perfected. After countless late nights, hours of brain storming sessions and research, gallons of Starbucks coffee (I'm addicted to white chocolate mocha expressos, FYI) and millions of emails we gave birth to D.R.E.A.M. in October 2009.
The Difference
There are many financial literacy programs ranging from church based groups to national organizations. We seek not to impune their work; we commend all those who take on the endeavor of spreading the knowledge of financial literacy. However, I have to make some points of distinction. Very often financial literacy is taught in what we call a "pre-packaged" format. There are nationally published curriculums that teachers and educators can follow and present to classes. However we find this method troublesome for many reasons. In the essence of time (and to avoid preaching), I will only highlight one point; financial literacy is such a comprehensive topic and should really be considered a skill. Like any other skill, it's something that must be practiced in order for it to be perfected. Traditional methods of teaching financial literacy are not best suited for all demographics. A national curriculum will not yield the best results, especially for urban youth who need this knowledge the most.
We offer comprehensive programs aimed towards and developed for urban youth. Our curriculum is engaging, ever-evolving, and based on an applied principles format, i.e. students learn from practice not from lesson plans. Our lessons are culturally relevant, contextual, and incorporate the language and style of our students. We have found that this nontraditional approach to teaching financial literacy is yielding amazing results. Our students stay engaged, encouraged, and yearn for the knowledge that we seek to provide.
We are preparing the next generation of responsible economically advanced model-citizens. Accompany us on our journey. Prepare for take off!
About the Author: Femi Faoye is the co-founder and Chief Executive Officer of D.R.E.A.M. He's a staunch and passionate financial literacy education advocate.
Disclaimer:
Notwithstanding any language to the contrary, the views expressed in this post reflect those of the author and do not reflect the views of Developing Responsible Economically Advanced Model-Citizens, Inc. The contents of this post cannot be redistributed without the explicit written consent of the author and Developing Responsible Economically Advanced Model-Citizens, Inc. All images in this post owned by Developing Responsible Economically Advanced Model-Citizens, Inc. may not be used in any advertising, publicity, or otherwise to indicate members' sponsorship or affiliation with any product or service without the prior express written consent of Developing Responsible Economically Advanced Model-Citizens, Inc. All other images presented not owned by Developing Responsible Economically Advanced Model-Citizens, Inc. are the property of the author, respective company, or photographer. The rights to the images and likeness represented are under explicit ownership of the person(s) aforementioned.